Testimonials
Project Lifesaver provides respite for Norma. She has always believed in the physical and

emotional benefits of exercise. Because her husband Bob wears a Project Lifesaver bracelet, Norma feels comfortable leaving him home alone, three times a week while she attends an exercise class, and on other occasions too, for short periods of time. Exercising relieves Norma of some of the stress of being the sole caregiver for Bob, while also providing her peace of mind. Click on the photo at the right to enlarge.
Jo's husband Tony wandered about a half mile from home. He was recognized by a c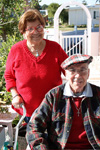 ook from a local restaurant. When Jo discovered Tony missing, she immediately notified the Sheriff's Department. Only a few minutes passed between Jo's call to the Sheriff, a call from the cook to Jo, and her arrival at the restaurant, but the Sheriff deputies were already there, as part of their search for Tony. Because of their rapid response, Jo is certain that the Sheriffs would have found Tony because of his Project Lifesaver bracelet, if the cook hadn't spotted him first. Click on the photo at the right to enlarge.